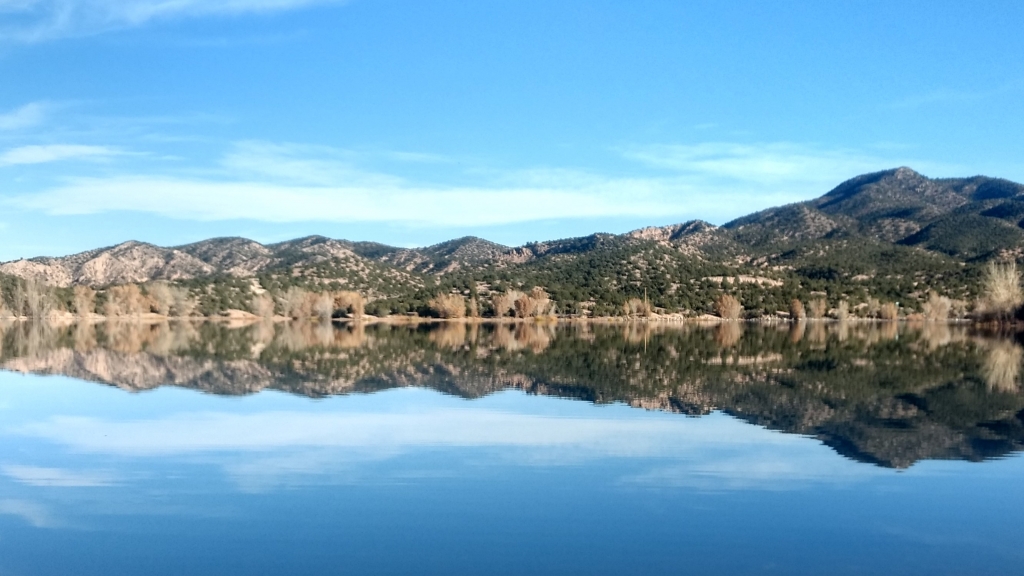 The fire restrictions have been lifted. Campfires and charcoal grills are now allowed. Please monitor the size of the campfire and the charcoal grills. Make sure that they are dead out if you leave your campsite or picnic area and make sure that the area is clear of any flammable materials before lighting.
 Nambé Falls & Lake Recreation Area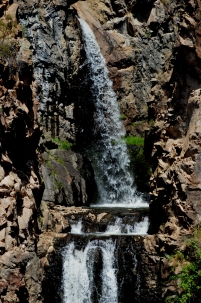 The Pueblo of Nambé, home to one of the most spectacular natural waterfalls in the southwest, is situated in the foothills of the Sangre de Cristo Mountains,  and encompasses nearly 20,000 acres of high desert landscape. Nambe, originally "Nanbe", meaning round earth, is one of six Tewa-speaking pueblos of Northern New Mexico. In 1976, as part of the San Juan Chama project, a dam was built above the falls to supply irrigation water to the Pojoaque Valley. Shortly thereafter, the Pueblo opened the Nambé Falls Recreation Area to visitors for camping, hiking and fishing.
What to Expect
Always carry drinking water, as temperatures in the summer are often high. The Ranger Station has water, soda, snacks and ice for sale.
Two trails, each ~ ¼ mile, lead to the waterfalls from the Ramada Area. One trail climbs up the hill ending in a spectacular view of the waterfalls from above, while the other trail goes along and through the river winding up at a beach area at the lowest pool. If you take the low trail, expect to get wet and remember the river height fluctuates according to season. Wearing water shoes, shorts and carrying a pack to hold your belongings are all recommended.
Pets are always welcome as long as they are leashed at all times and their owners clean up after them.
Rates  (CASH ONLY)                                                    
Day Rates (per carload)                                                     $15.00 per day                                   –Sightseeing, Hiking, Picnics
Basic Campsite                                                                    $30.00 per day/per vehicle
Ramada Campsite                                                              $40.00 per day/per vehicle             -Water/electrical hookups
Ramada Rental                                                                   $40.00 to $50.00 per day
Fishing Rates:
Adults (5 fish bag limit)                                                                                               $18.00 per day/per person
Seniors – 65 and over on Thursdays (5 fish bag limit)                                          $12.00 per day/per person
Military, Veterans and First Responders on Fridays  (5 fish bag limit)            $15.00 per day/per person
Children 12 and under (3 fish bag limit)                                                                 $10.00 per day/per person
Extra fishing pole                                                                                                         $2.00 per pole
Fishing Tackle Rental                              $20.00 per set/per day (includes: 1 fishing pole and 1 tackle box with basic gear)
Boats (electric motors only)                                                                                        $20.00 per day
Kayaks, Rafts, Paddle Boards, Float Tubes, Canoes                                              $15.00 per day/per craft
Please note that all watercraft fees are in addition to daily fishing fees. All persons on watercraft must have a life vest on at all times. We do not rent watercraft, you must bring your own.
Days of operation are Thursday – Monday      Hours of operation are 7:00am – 7:00pm.
For campsite reservations, group sales and special events, and information please call (505) 455-2304.
Don't forget to visit us on Facebook @ NAMBE Pueblo Rangers.
Important dates to remember:
March 22, 2018 – Open for the Season
March 24 & 25, 2018 – Fishing Derby
April 1, 2018 – Easter
May 13, 2018 – Mother's Day
May 28, 2018 – Memorial Day (observed), Days of operation extend to Thursday through Monday
June 17,2018 – Father's Day
June 20, 2018 – Lake stocked
July 4, 2018 – Independence Day – We will be open
July 17, 2018 – Lake stocked
August 21 through 29 – Park will be closed for the week
September 3, 2018 – Labor Day, Days of operation fall back to Thursday through Sunday
October 4, 2018 – Feast Day
October 28, 2018 – Close for Season
Nambé Falls and/or Nambé Pueblo are not responsible for accidents, damage or theft to personal property.